President Recep Tayyip Erdogan on Saturday inaugurated a huge, long-awaited production plant that will build Togg, Turkey's first domestic car brand.
On Saturday, the Turkish public witnessed another remarkable event that coincided with the opening ceremony in Bursa province in the northwest of the country. It is the 99th anniversary of the Republic of TurkeyHe officially started the mass production of the car, which is expected to be launched at the end of the first quarter of 2023.
The event was also seen Togg's first all-electric SUV rolls off the assembly line Having President Erdogan in the driver's seat brings Turkey and President Erdogan closer to realizing their long-held dream of creating the country's first national car.
The Turkish leader has long pushed industrialists to produce domestic cars as part of his vision to turn Turkey into an economic powerhouse.
"We are witnessing the realization of a 60-year dream… Wherever you go, you can see Turkish brands… Togg, as a prestigious Turkish brand, will decorate the roads of many countries around the world," Erdogan said.
"Everyone is wondering when Toggu will grace the roads… By the end of Q1 2023, we will see Toggu on our roads," he said. "Our citizens will be able to pre-order Togg models towards the end of February… (At that time) prices will also be announced."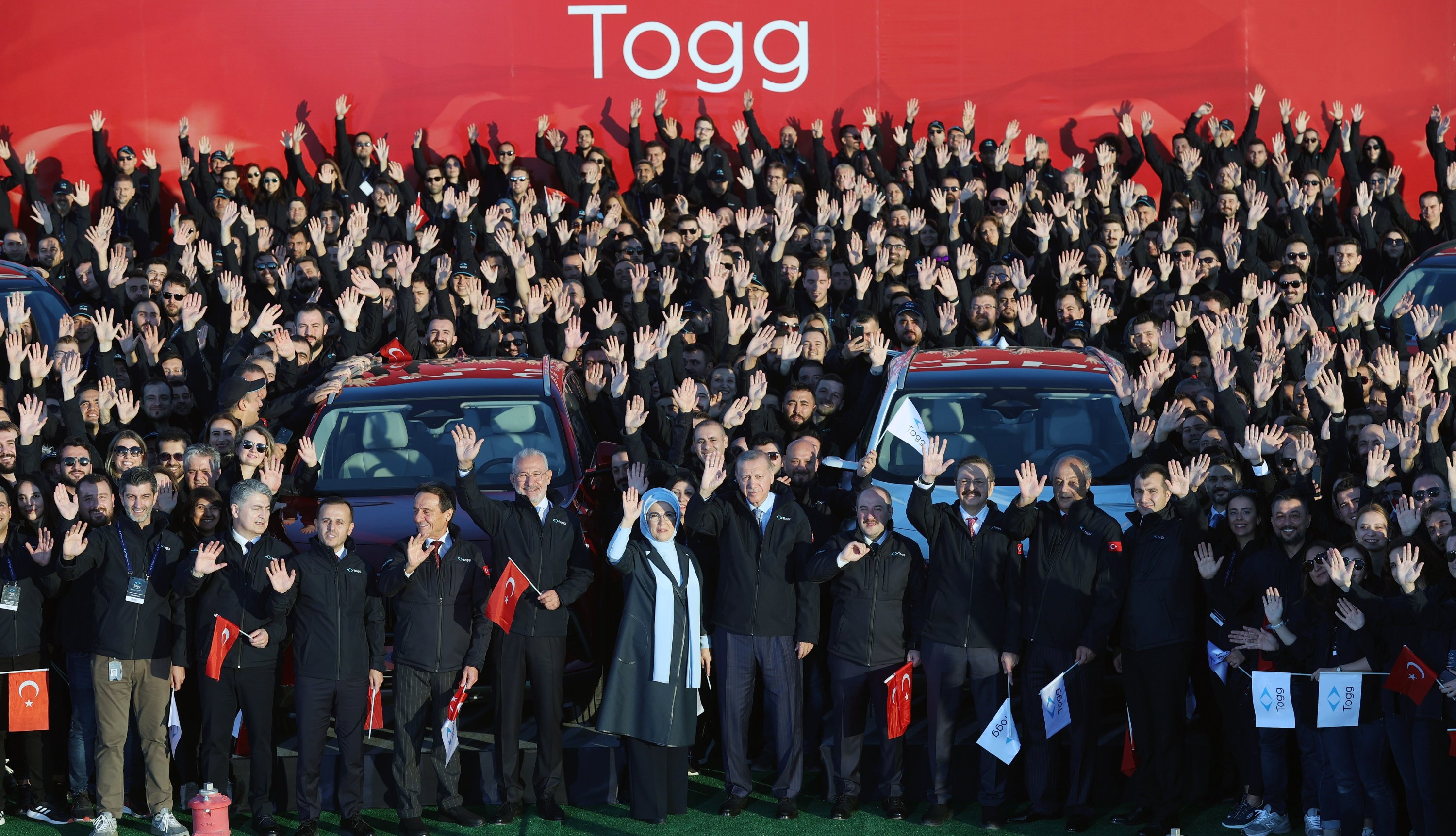 The car is produced by a consortium of five Turkish companies called the Turkish Automobile Initiative Group, or Togg, in cooperation with the Turkish Association of Chambers and Stock Exchanges (TOBB).
Construction of Togg's engineering, design and manufacturing facilities began in mid-2020, nearly two years after President Erdogan unveiled a consortium led by former tech giant Bosch executive Mehmet Gurcan Karakash.
The plant was built on an area of ​​1.2 million square meters (12.92 million square feet) in Bursa's Gemlik district.
Bursa is called the country's automobile capital because it is home to the production facilities of many foreign brands, including Oyak Renault and Tofaş, a joint venture between Turkey's Koç Holding and Italian-American automaker Fiat Chrysler.
In December 2019, Erdogan unveiled Togg's SUV and sedan prototypes, both fully electric and C-segment models.
The SUV is expected to hit the market in the first quarter of 2023 and will be the first electric sports car produced in continental Europe by an unconventional manufacturer.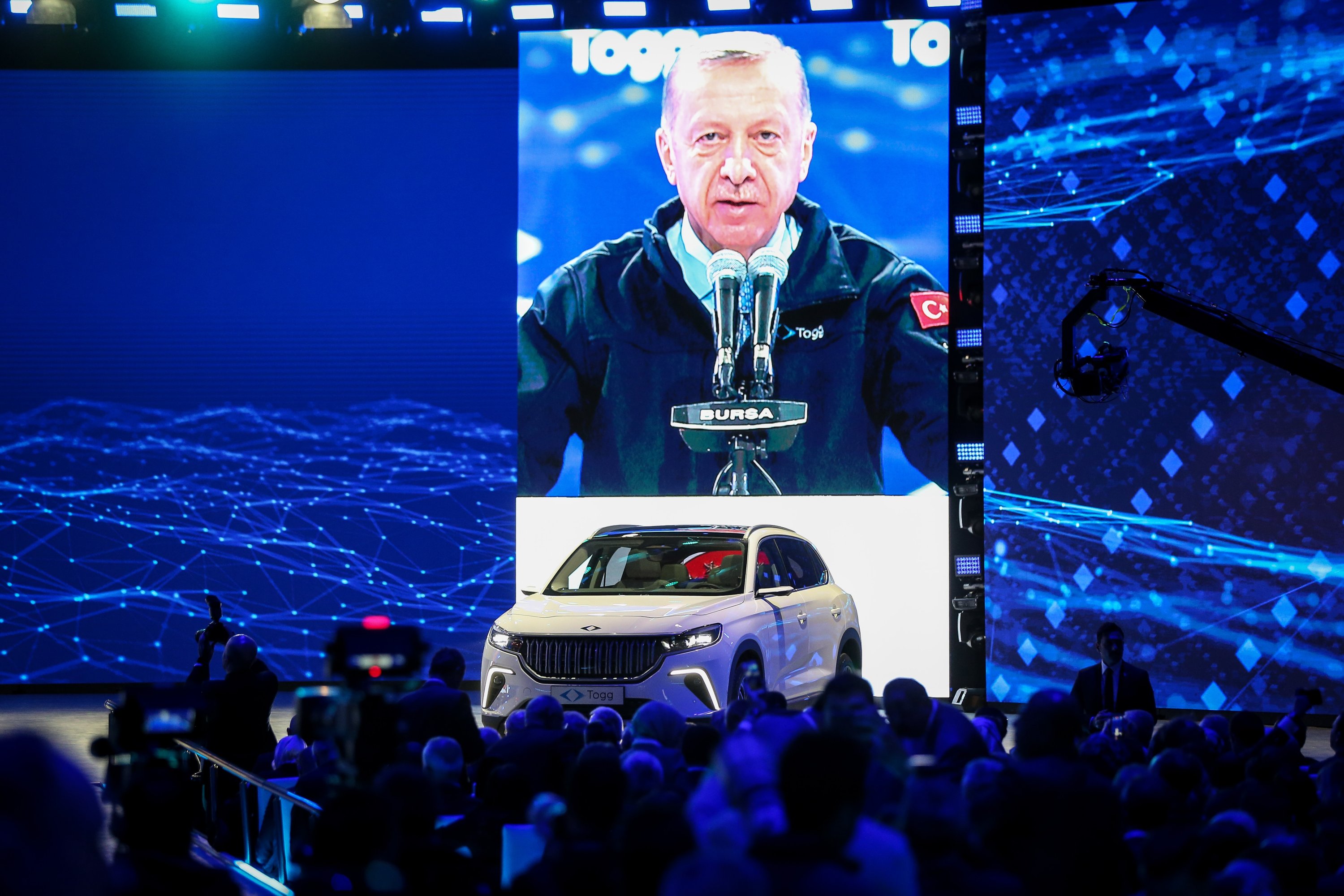 Togg will produce five different models – SUV, sedan, C-hatchback, B-SUV and B-MPV – until 2030. The mass production of the SUV will be followed by the sedan.
The brand aims to produce 1 million vehicles in five different segments by 2030.
The car was designed by Italian design firm Pininfarina, which creates models for Ferrari and California-based electric car maker Karma.
Togg has selected leading lithium-ion battery technology company Farasis as its business partner for the battery. The home-made car is expected to be charged to 80% in less than 30 minutes with fast charging. It will be 300 kilometers to 500 kilometers (186 miles to 310 miles) away.
Track tests showed that the car takes about 7.6 seconds to accelerate from zero to 100 km/h with 200 hp, and less than 4.8 seconds with the 400 hp engine.
The Togg consortium is Turkey's second attempt to produce a Turkish-made car. In the 1960s, a group of Turkish engineers built prototypes of a car called Devrim, or Revolution in English. The project was later abandoned.