Heavy police stormed the university of Lima on Saturday, destroying gates with armored vehicles, firing tear gas and detaining more than 200 people who had come to the Peruvian capital to take part in anti-government protests.
Footage shows dozens of people lying face down at the University of San Marcos after a surprise police operation. Students told the Guardian they were pushed, kicked and hit with batons.
Police raid the University of San Marcos – the oldest America – It's the latest in a series of insults that have led to growing calls for President Dina Boluarte's resignation after six weeks of unrest that have left 60 dead, at least 580 injured and more than 500 arrested.
The demonstrations It started in early December in support of ousted former president Pedro Castillo, but overwhelmingly moved to demand Boluarte's resignation, the shutdown of Congress and new elections. Boluarte was Castillo's vice president and succeeded him after an attempt shutter congress and ruled by decree on December 7.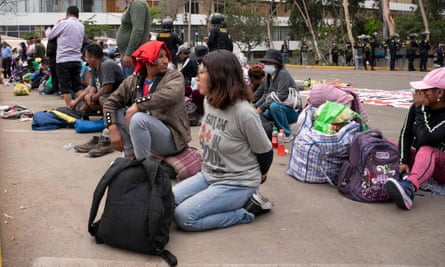 Many of those arrested in Saturday's raid traveled from southern Peru to the capital to take part in Thursday's demonstration. "Capture of the port" started peacefully, but turned into clashes between protesters and riot police amid stone-throwing and teargas volleys.
in his statement about TwitterThe office of the UN High Commissioner for Human Rights called on the Peruvian authorities to "ensure the legality and proportionality of rights". [police] intervention and due process guarantees". The importance of the participation of prosecutors who were not present in the first hours of the raid was emphasized.
Students living in the halls of residence said armed police were violently forced out of their rooms and broke down doors, pushing and kicking them out.
20-year-old Esteban Godofredo, a student of the Faculty of Political Science, was treated for a leg injury. "He hit me with a stick and knocked me down and started kicking me," Godofredo told the Guardian as he sat on the grass outside the residence with his badly bruised, bandaged right calf.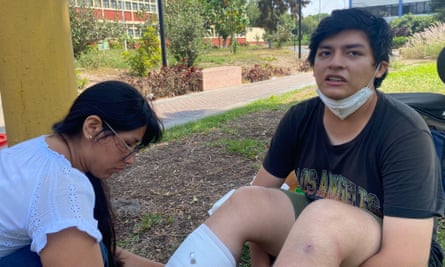 Videos seen by the Guardian show confused and frightened students gathered outside the hall, some still in their pyjamas, as riot police shout orders and insults. Young men were forced to lean against the wall or kneel in rows.
"They pointed their guns at us and shouted, 'Get out.' We didn't even have time to get our IDs," said 20-year-old student teacher Jenny Fuentes. "They forced us to kneel down. Most of the girls were crying, but they told us to be quiet."
"We were not told why we were forcibly removed from our rooms," he said. A group of about 90 students, who stayed on campus to work and study over the summer break, were then taken to the main patio, a 10-minute walk away, where others were being held.
Hours after the raid, they were not allowed to return to their rooms, which were searched by the police.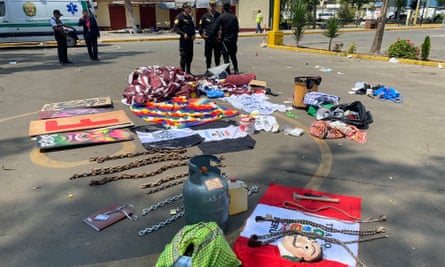 "I was a student in San Marcos [University] and not since the 1980s have we faced such outrage," Congresswoman Susel Paredes told the Guardian as she was prevented from entering the campus by a police cordon.
"The police entered the residence of the university, the rooms of female students who had nothing to do with the demonstrators. They threatened them and took them out of their rooms while they were sleeping."
Paredes said it was a reminder of regular police and armed forces raids on the state university in the 1980s and 90s, when the campus was seen as a hotbed of violence during the state's clash with the Mao-inspired Shining Path rebels.
"We are not in that era, as if we are under a democratic government that should respect fundamental rights," Paredes said.
With demonstrations and roadblocks paralyzing much of the country, Peruvian authorities on Saturday ordered the closure "until further notice" of the Inca citadel and the Inca Trail leading to the world heritage archaeological site of Machu Picchu – Peru's biggest tourist draw. more than 1 million visitors per year.