Peru's capital is bracing for more unrest as thousands of protesters from across the country flock to Lima to demand the resignation of President Dina Boluarte after nearly six weeks of unrest that has left nearly 50 people dead.
Anger over the rising death toll fueled growing protests started in early December they supported ousted former president Pedro Castillo, but the vast majority demanded Boluarte's resignation, the closure of congress and new elections. Boluarte was Castillo's vice president, who replaced him after he tried shuts down congress and rules by decree where on December 7
A group of medical volunteers traveling among convoys of trucks and cars to the coastal capital mourned Marco Antonio Samillan, a 30-year-old student doctor who was killed last week while helping an injured protester. the deadliest violence since the protests started.
His comrades renamed their brigade after Samilla, who had just finished his sixth year of medical school and aspired to become a neurosurgeon. He died of internal bleeding from a gunshot wound last Monday in the southern city of Juliaca in which 18 civilians and a police officer were killed.
"She always had a desire to serve, to help the poorest," said Samilla's older brother Raul, 40.
"I tried to convince him not to go to the protests, but he took his first aid kit and went anyway. I spoke with him for the last time."
"All of Juliaca is in mourning. This has caused deep pain in our people," he added.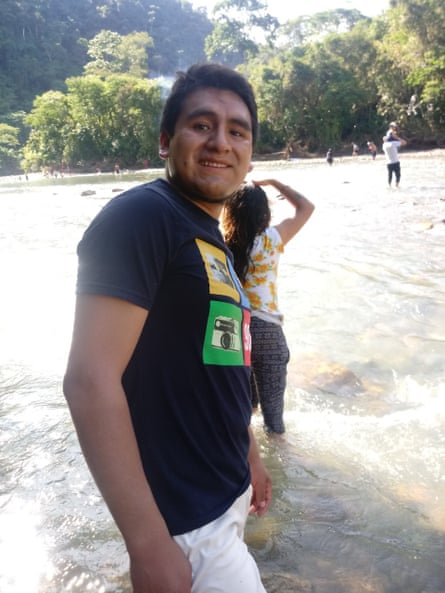 Marco Samillan, the sixth of nine siblings who grew up in poverty, always dreamed of becoming a doctor and treating the sick in his native Puno, a poor, difficult region on the high plateau that connects Peru's southern border with Bolivia.
Human rights groups and the UN have accused Peru's security forces of using disproportionate force in the protests, including firing live bullets and firing tear gas canisters from helicopters.
Edgar Ralon, vice president of the Inter-American Commission on Human Rights, said last week that a fact-finding mission "received reports of indiscriminate shootings of demonstrators in certain areas … as well as other reports of targeted shootings." [of the body] with lethal and high-caliber weapons, violating the principle of gradual application of force.
Speaking to reporters on Friday, Ralon said Peru's protracted political crisis, which has seen seven presidents in six years, has led to the deadliest political violence in two decades. He added that in addition to polarization and conflict, the labeling of protesters as terrorists also played a role in discrimination and inequality.
The deaths sparked long-running grievances in Puno and much of the largely impoverished southern Andes, home to the many mines that drive the country's economy and attractions such as Machu Picchu and Lake Titicaca, which generate the vast majority of its revenue. from tourism.
"The wealth from those raw materials never reaches our cities; they are distributed among the elite in Lima," said Samillan.
"We are part of this country. We also want quality of life with good healthcare and education. But when we protested and demanded to respect our rights, they responded with bullets and blows."
58 percent of Peruvians think that law and order forces have gone too far in the face of protests. Survey of the Institute of Peruvian Studies this month. The same poll found that 83% of respondents were in favor of holding elections, and only 3 in 10 Peruvians approved of Boluarte's government.
Boluarte apologized for the deaths but insisted he would not resign, repeatedly blaming radical elements for inciting the protests and forcing people to participate.
Extremists, including some linked to the Shining Path rebel movement that terrorized the country in the 1980s and 1990s, may have played a minor role in the protests, said Patricia Zárate, head of public opinion research at the Institute for Peruvian Studies, and Boluarte was seen as a disparaging discourse. was accepted.
"He treats people like they're not in control of their political views, like they're being manipulated and don't understand why they're marching.
"People don't feel represented by the political system and want to be included."